About Us
Vancouver Restaurant Brokers is BC's only group of brokers specializing exclusively in the sale of Food and Beverage operations. Our team is made up of industry experts, business specialists, and liquor consultants who are committed to providing outstanding service and results. With dozens of successful transactions under our belt we are simply the most knowledgeable and experienced team Vancouver has to offer. Our reputation in the industry allows us repeated opportunities to build quality working relationships and, ultimately, deliver the results our clients are looking for. Whether you are buying, selling, or simply curious about owning a restaurant business we are more than happy to speak with you.
CHRIS VAN VLIET | Principal
chris@chrisvanvliet.com
604.307.8700
Chris is an entrepreneur and a businessman. His drive and ambition came alive when he launched his first business in 2001. He operated his business for 8 years and the company experienced significant growth and continues to succeed after he sold the entire operation in 2009. Thereafter, Chris continued to be involved in business development with new start-ups, company turnarounds, mergers & acquisitions, corporate finance, operations, and administration. Combining his technical background and training with a natural sales ability, he created Vancouver Restaurant Brokers to be the first and only company of its kind in Vancouver. He specializes solely in the dynamic and often complicated business transactions found only with Food and Beverage operations, making him and his team the most knowledgeable and trustworthy Brokers in Vancouver for your restaurant purchase or sale.
Chris is a licenced representative at Royalty Group Realty Inc. and a member of the Real Estate Board of Greater Vancouver.
---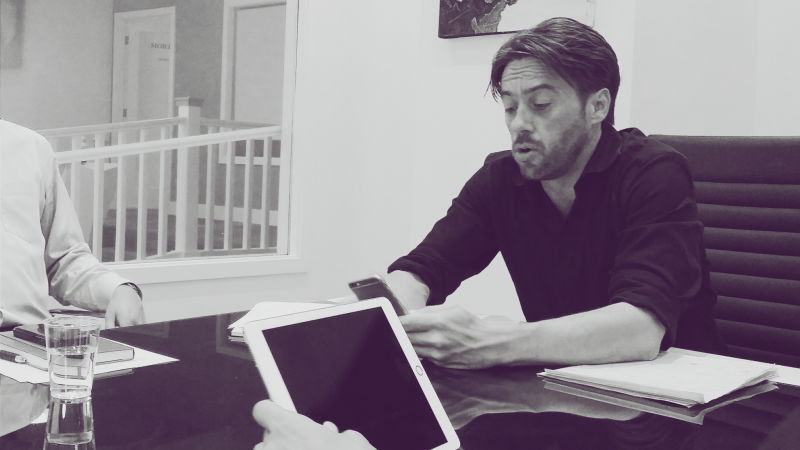 SHANE MORCK | Principal
shane@shanemorck.com
604.396.2074
Shane Morck is understandably the most experienced Restaurateur turned Business Broker in British Columbia with 20 years' experience in all facets of the Food and Beverage industry. He has owned and operated restaurants in four different countries, and managed banqueting and catering in international hotels such as Marriot and Pan Pacific. After successfully opening his first restaurant in Sydney, Shane was nominated for "Young Australian of the Year" and went on to work for some of the best restauranteurs in Australia and London, England. You simply cannot find another broker in Vancouver with his intimate understanding of your business. When seeking to sell or buy a restaurant, having someone like Shane who can understand your product and communicate knowledgeably with restaurateurs and buyers is something that is exclusive to Vancouver Restaurant Brokers.
Shane is a licenced representative at Royalty Group Realty Inc. and a member of the Real Estate Board of Greater Vancouver.
---
JORDAN FARNSWORTH | Restaurant Broker
jordan@vancouverrestaurantbrokers.com
604.761.8657
Jordan's significant experience in the hospitality industry contributes to our success as the market leader in the Sale, Marketing, and Leasing of hospitality properties and businesses. Prior to joining Vancouver Restaurant Brokers, Jordan held several management positions operating some of Vancouver's largest establishments, The Pint and Craft Beer Market, both of which stretch across Canada servicing four different provinces and the USA. His understanding of the big operations and the intricate details of the daily running makes Jordan an asset to our team of brokers.
Jordan is a licenced representative at Royalty Group Realty Inc. and a member of the Real Estate Board of Greater Vancouver.
---
BRUCE LEE | Restaurant Broker
bruce@vancouverrestaurantbrokers.com
604.761.6638
Bruce is another entrepreneur turned broker that really understands the ebb and flow of business in Vancouver. He started his first small business in 4th year in UBC Sauder in 2009 and now has started and sold businesses in various industries such as marketing, design, event planning, and sales. Bruce has also found tremendous success building up niche markets in the past 7 years in the nightclub industry in Vancouver. With previous investment banking training and experience from multiple industries, you can rest assured that you are getting sound advice.
Bruce is a licenced representative at Royalty Group Realty Inc. and a member of the Real Estate Board of Greater Vancouver.
---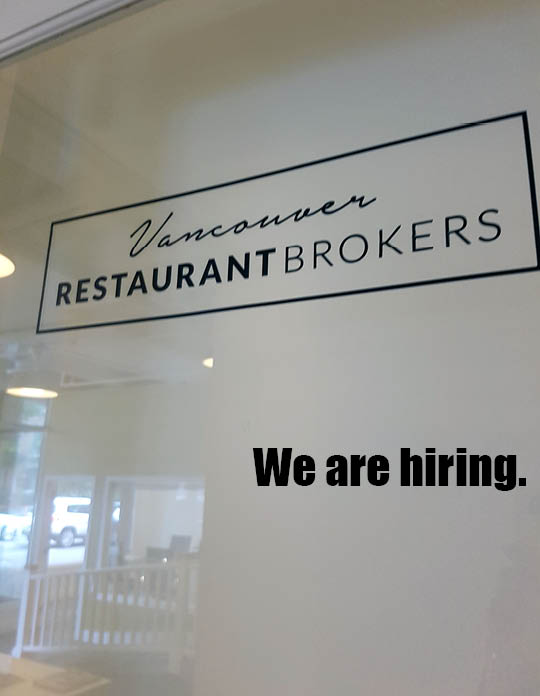 Vancouver Restaurant Brokers, are searching for a driven, entrepreneurial, and capable sales professional to join our sales team. Our team has all the tools, training and systems you need to be a rock star restaurant broker. Vancouver Restaurant Brokers are looking for that one individual to fit into our unique group.
We are Vancouver's only broker team dedicated solely to restaurant & bar sales, leasing, and tenant representation. More can be learned about the company by visiting our website at VancouverRestaurantBrokers.com
The ideal candidate possesses the following attributes:
• Prospecting new client relationships, and networking with other industry professionals
• Negotiating listing agreements, and purchase and sales agreements
• Minimum of 2 years professional industry experience in real estate
• Must procure and maintain a real estate salesperson's license as required
• Restaurant experience is considered an asset
• Previous management in hospitality is a huge benefit

If you are ambitious, motivated and driven to succeed, we'd like to hear from you. Please send your resume to shane@shanemorck.com with the subject line "Career with Vancouver Restaurant Brokers", and join our commitment to service excellence.

All provided:
Team office, boardroom, email, database access, personal training, marketing, signs, branding, advertising.
---